Our Early History
Murphy's Lamplight Inn becomes The Blue Pelican Inn and Restaurant in 2008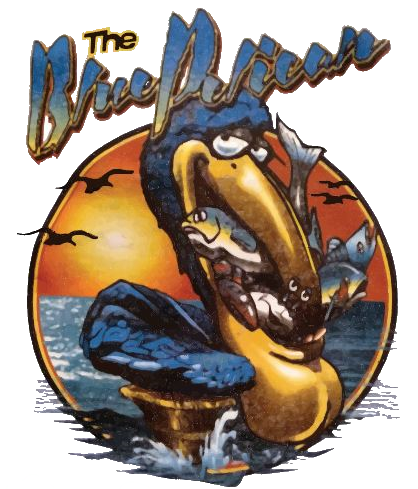 2535 N. Main St. Central Lake, MI 49622
Pre-Blue Pelican
The Blue Pelican Inn has been known by many names, most recently as Murphy's Lamplight Inn before it was purchased in 2008.
Going back to its early days, it was built in 1924 by Art Carpenter, Joe Blakely, and Jack Garrison, all local stonemasons. It was owned by a stock company and the whole project was headed by Orrin (O.P.) Barber, with help from John Smith. It was named WE-GO-TA. Emmons (E.B.) Gill lived in the hotel and ran it. The bar and dining room were at the north end of the hotel with a total of 22 rooms and only 4 bathrooms.
For years it was a favorite location for traveling salesmen. At some time during this period, the name was changed to the Central Lake Hotel. Several years later, Cliff and Etta Springstead sold their Central Lake tavern and purchased the Central Lake Hotel.
In April of 1946, Charles A. (Art) Cronover and his wife Ruth, and Archie S. Dayton purchased the hotel. The rooms with baths were rented for $4.50 per night and without a bath, they were $2.50. Someone always met passengers at the train station who were wishing to stay at the hotel.
In the mid-1960's, Gary Morse purchased the hotel and changed the name to The Palace. Morse moved the bar to the south end of the hotel and totally remodeled it. The second floor was renovated to include living quarters for the family and the Brownwood offices. The Palace was also the scene of a gala New Year's Eve party for many years.
In the mid-seventies, Doug and Mary Lou Denny purchased The Palace and changed the name to The Lamplight Inn. The menu featured steaks, seafood, and prime rib specials. The overnight guests utilized the upstairs bedrooms for a bed and breakfast.
In 1986, Ted and Betty Strezempek bought the Lamplight Inn along with their sons Tracy and Scott. They improved on the fine dining. In 1996, the Inn was sold to Mike and Mary Ellen Murphy. They moved their family from Dearborn, Michigan and changed the name to Murphy's Lamplight Inn.
Chris and Merrie Corbett purchased the Lamplight Inn property from the Murphy's in October 2008 and changed the name to The Blue Pelican Inn. The Corbett's added additions of a new kitchen and a covered porch to the building. The seven hotel rooms, as well as the bar and the main dining room, were totally remodeled. Also, the Side Door Saloon was remodeled and reopened. The bedrooms are now being rented.