 The Side Door
at The Blue Pelican Inn & Restaurant
Open
Thursday, Friday & Saturday at 5pm
231-544-2583
   Thu/Fri/Sat at 5pm
2535 N. Main St. – Central Lake, MI 2535 N. Main St.
Central Lake, MI 49622
 Welcome to The Side Door
The Side Door is a blast from the past featuring a pub-style menu with a twist.
Trivia Returning Saturday Nights at 7:30 Hosted by Matt Hall
Euchure Night Thursdays at 6:30 pm
  Specials & Events
Friday-Fish Fry, Hand Battered Cod, Fries & Coleslaw starting at $15.99
Appetizers
Fried Brussel Sprouts $11.99
Toasted Almonds, Parmesan, Sauteed Onion, Balsamic Drizzle, Bacon
Big Bang Shrimp $13.99
Lightly Breaded Shrimp, Tossed in Sweet & Spicy Asian Sauce, Siracha Drizzle
Potato Skins $12.99
ask your server for todays flavor
Onion Petals  $8.99
Crispy Battered Petals, Served with Chipotle Ranch
Smoked Chicken Wings
6/$11.99  12/$18.99
Franks Hot Sauce Brine, Cherry Smoked, Fried Golden Brown. Choice of: Garlic Parmesan, Big Bang, BBQ,Hot, Honey Mustard. Served with Celery Choice of  Bleu Cheese or Ranch
Mozzarella Half Moons $9.99
Fried with Marinara Dip
Crab Cake $14.99
Made in house served with remoulade
Soup of the Day or Tomato Bisque
5.99 Bowl 3.99 Cup
Salad
Add Grilled or Blackened Chicken $5.99, Grilled or Blackened Shrimp $7.99 To Large Salads Only 
Dressing: Ranch, Bleu Cheese, Red Wine Vinaigrette, Honey Mustard, Caesar, French
Caesar Salad Small $4.99 Large $9.99
Romain Hearts, Parmesan, Croutons & Caesar Dressing 
House Salad Small $4.99 Large $9.99
Romaine/Ice-Burg Lettuce, Cucumber, Tomato, Onion, Cheese & Croutons
Taco Salad Small $9.99 Large $14.99
Romaine/Iceburg Lettuce, Tomato, Onion, Black Bean Corn Relish,
Black Olives, Seasoned Taco Meat, Chedddar Jack Blend, Nacho Cheese Doritos
South of The Border
Choice of Vegeterian, Chicken or Ground Taco Beef
 Wet Burrito $14.99
Refried Beans, Cheddar Jack Cheese, Enchilada Sauce, Onion, Lettuce, Tomato, Jalapenos, Black Olives, Sour Cream & Salsa Side of Corn Chips
Trash Can Nachos $16.99
Corn Tortilla Chips, Black Bean Corn Relish, Cheddar Cheese, Onion, Tomatoes, Lettuce, Jalapenos,Black Olives, Verde, Chipotle Ranch
 Quesadilla $14.99
Seasoned Grilled Chicken Breast, Black Bean Corn Relish, Onion, Cheddar Jack Cheese, Chipolte Ranch, Flour Tortilla
Served with Corn Chips, Salsa & Sour Cream
Kids 7.99
(12 & Under Please)
 Grilled Chicken Breast & Green Beans 
Corn Dog & Fries
1 pc Chicken Strip Basket 
Buttered Noodles  
add Marinara or Alfredo
SMASH BURGERS
substitute grilled chicken breast or black bean burger
Served with Fries Upgrade to Onion Petals $4.99
Side Door Burger $13.99
American, Pickles, Onion, Pickle Mustard Aiolo
Classic Smash $9.99
Build Your Own Burger
Additional Toppings:
Cheese $1 American, Swiss, Bleu Cheese, Cheddar Jack
Lettuce, Tomato Onion $1.50
Bacon $2.50, Mushrooms $1.00, Sauteed Onion $1.50, Onion Petals $1.50
Green Olives .50
Sauces .50 ranch, Chipolte ranch, mustard garlic aioli, bbq
Olive Burger $13.99
American Cheese, House Made Olive Tapenade.
Baskets
Served with Fries Upgrade to Onion Petals $4.99
Chicken Strips $14.99
4 pc Golden Brown Tenders
Ranch, BBQ, Bleu Cheese, Big Bang, Hot, garlic Parmesan or Honey Mustard
Whitefish Sandwich $14.99
Beer Battered Whitefish Filet, American Cheese, Lettuce & Tomato Served with Coleslaw
Butterfly Shrimp Basket $15.99
Fried Golden Brown served with coleslaw
Ultimate Grilled Cheese $15.99
French Double Creme Brie, Mozzarella, Parmesan, on Grilled Sourdough
served with tomato bisque. Add Bacon $2 Add Tomato $1
Honey Mustard Chicken Sandwich $14.99
Grilled Chicken Breast, Swiss Cheese, Bacon & Honey Mustard
PASTA
Served with garlic bread
Chicken Parmesan $17.99
Gucci Crab Mac $17.99 add bacon $2.50
Alfredo $19.99 Chicken or Shrimp
Beef Stroganoff $18.99
ENTREES
Choice of 1 Side Additional Side $1.99: Fries, Baked Potato, Green Beans, Brussel Sprouts, Wild Rice (sub small caesar or house salad $1.99)
add 1/4 grilled shrimp $8.99 or crab cake $9.99
 New York Strip $26.99
12 oz. Seasoned and Grilled to Perfection Topped with Zip Sauce
Shrimp Dinner $19.99
½ LB Grilled or Blackened
Walleye $23.99
Parmesan Herb Crusted, Blackened
Crab Stuffed $32.99
Smoked BBQ Chicken Dinner $21.99
Breast, Thigh, Wing & Drum
Crab Cake Dinner $23.99
Two Crab Cakes & Remoulade
Friday Night Fish Fry
Hand Beer Battered Cod 2PC $14.99 3PC $16.99 4PC $17.99 6PC $19.99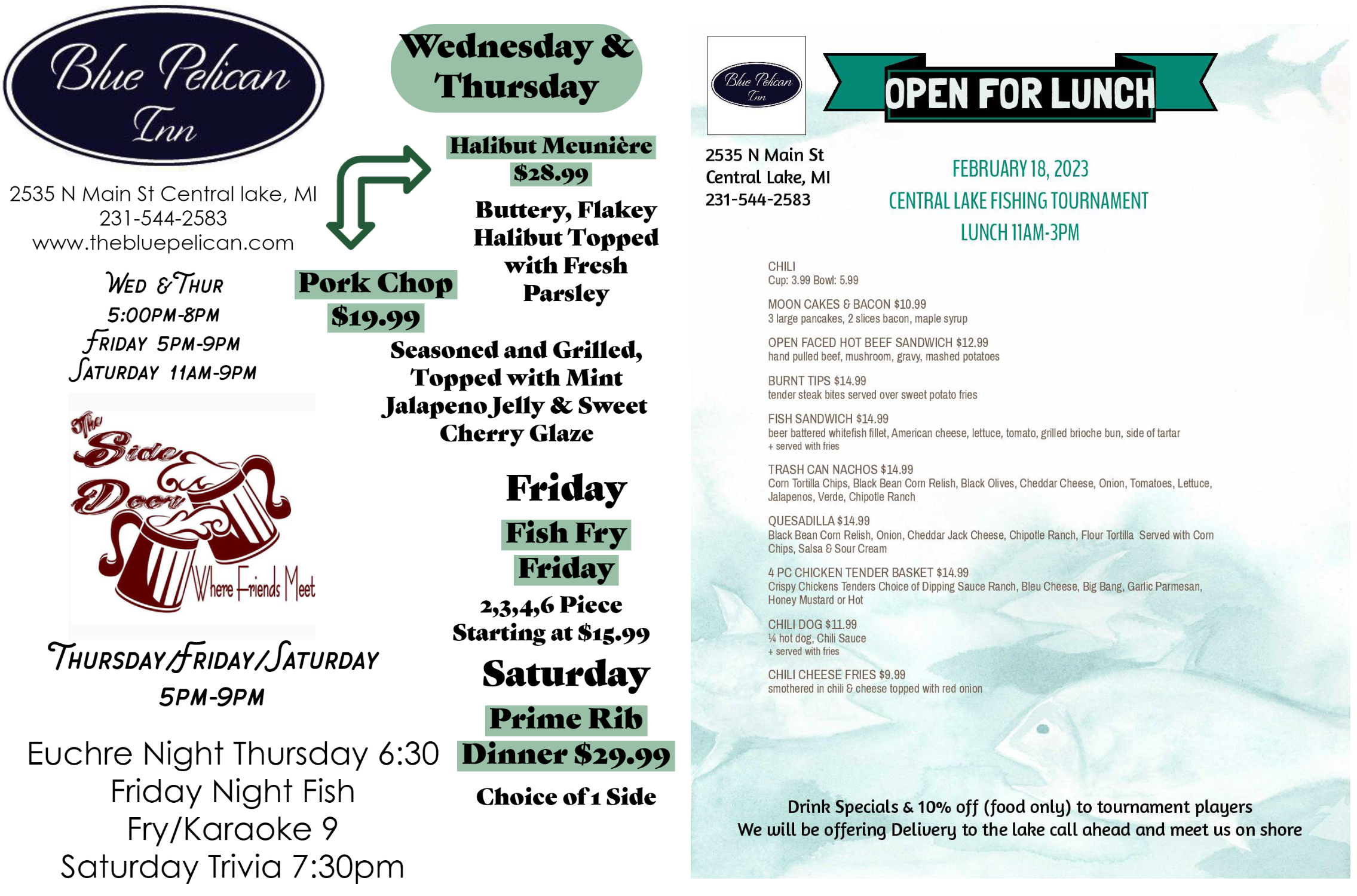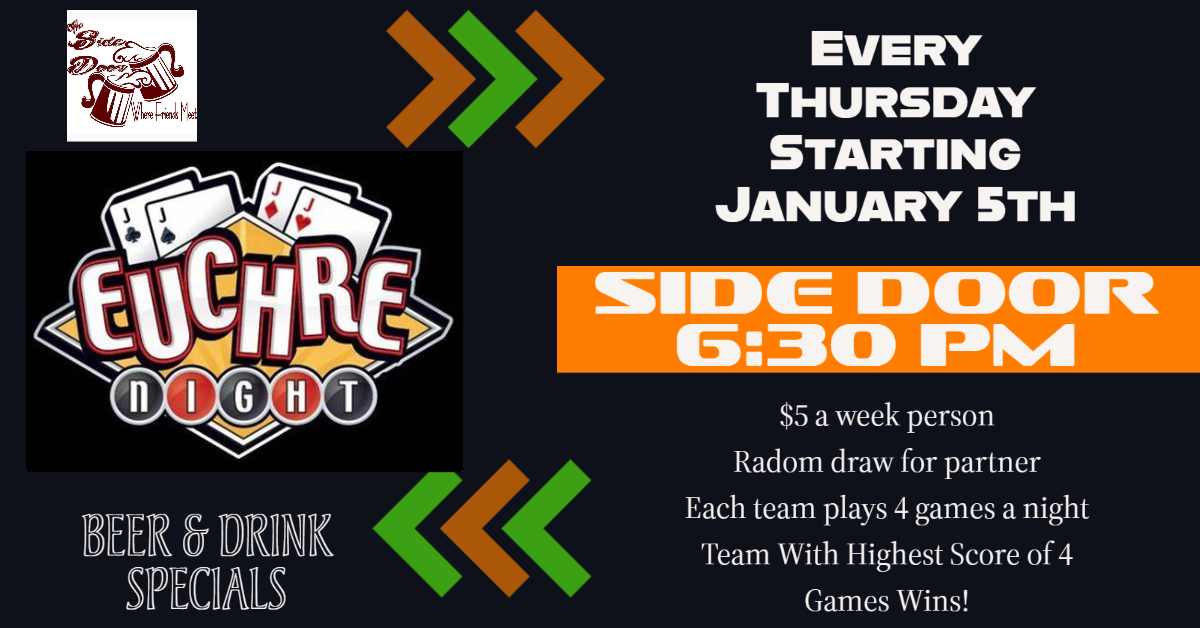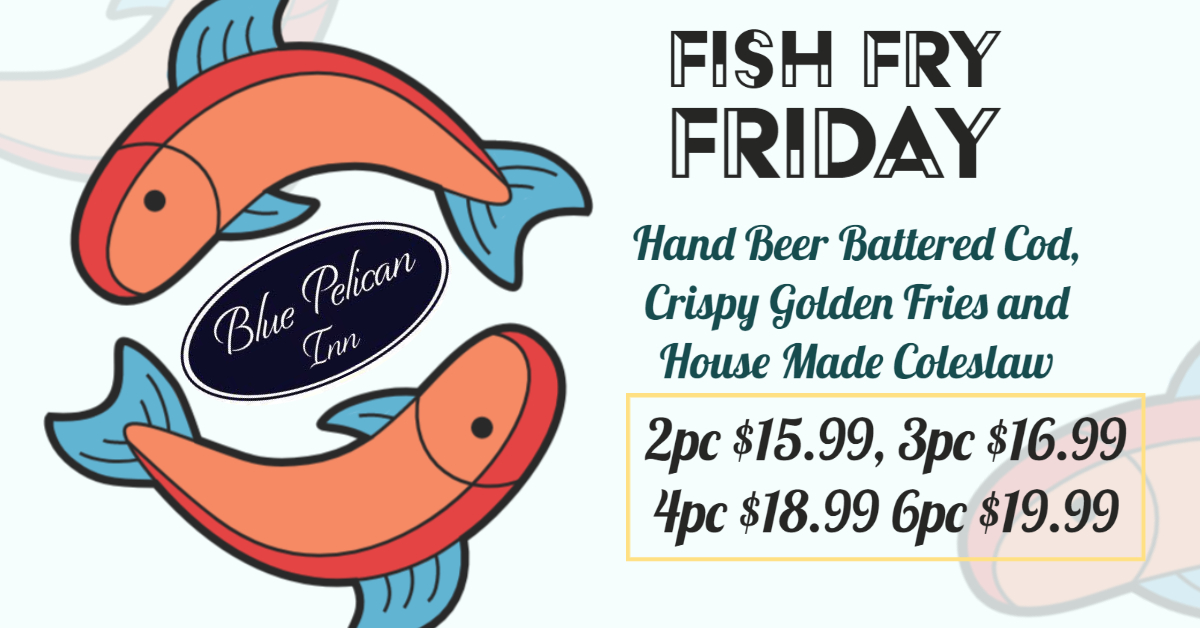 Visit Us
2535 N. Main St.
Central Lake, MI 49622
Contact Us
Phone: (231) 544-2583
Fax: (231) 544-6737
blue@thebluepelican.com